Tiny Treasures Preschool
"Train up a child in the way they should go; even when they are old they will not depart from it."
(Proverbs 22:6)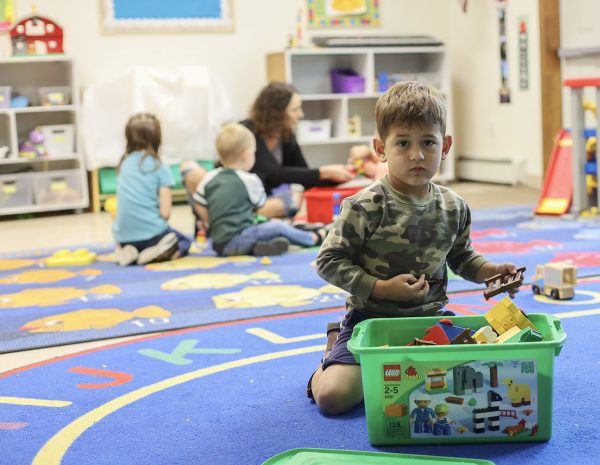 PRESCHOOL OVERVIEW
Tiny Treasures first opened over twenty years ago. The preschool operates year-round. The typical school day runs from 8:30-3:30 with potential allowances for parents' work schedule. We daily strive to love your unique child(ren) in a clean, safe, secure, and licensed facility.
PRESCHOOL CURRICULUM
We are daily driven by the individual needs and desires of each child. To help us with that focus we supplement our relationship with your child(ren) by using One in Christ, Handwriting without Tears, and a custom assessment derived from Creative Curriculum and the National Head Start Standards.
MONTHLY TUITION
Half Day Sessions = 3 hours/day.
Morning Session is 8:30-11:30am.
Afternoon Session is 12:30-3:30pm.

Full Day Sessions = 8:30am-3:30pm
THINGS TO KNOW
$50 Fee on Returned Checks.

If Tuition is not paid by the 10th of the Month, a $20.00 Late Fee will be assessed.

Preschool will provide a snack during the morning or afternoon sessions.

Parents are required to provide a lunch for their child(ren).

Parents will provide a backpack with a change of clothes.

Each additional child will receive a 10% discount.
| | First Child | Second Child |
| --- | --- | --- |
| Registration Fee | $60 | |
| Two Half Days | $140 | $126 |
| Three Half Days | $210 | $189 |
| Four Half Days | $280 | $252 |
| Five Half Days | $350 | $315 |
| Two Full Days | $280 | $252 |
| Three Full Days | $420 | $378 |
| Four Full Days | $560 | $504 |
| Five Full Days | $700 | $630 |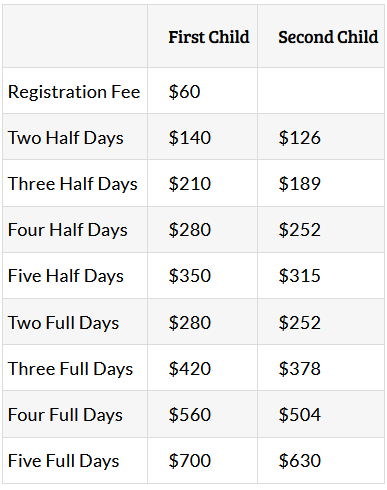 What's Happening at Tiny Treasures Preschool
Pentecost? Trinity? Non-festival? These are all names for the Sundays that come after Pentecost and before the festival half of the Church year that starts with Advent in late November. Regardless of their names, the Sundays of the Summer are time for the Holy Spirit to grow us all in the Word of the Lord. Here at Tiny Treasures a new school year will have started on August 29th and the Bible story that we cover first is that Jesus is the true God with His calming of the storm. Next, we will jump into Genesis with Creation, the Flood and end September introducing Abraham from Genesis 12.
The assessments that the preschoolers start the year off with focus on language development, listening and understanding, and speaking and communicating. We will practice one, two and three step commands, listening to stories for 5 whole minutes and staying with a group activity for 10 minutes. We will also be practicing making requests, asking questions, and using conversational turn taking. These are all things that parents can do to help support language development in their 3 and 4 year olds.
The only dates to remember that are upcoming are that there is no school on Labor Day, Monday, September 5. Although the elementary school is closed on Monday, September 26 for parent teacher conferences, the preschool will be open that day. Fall break is the week of October 10-14 with both the preschool and elementary school closed.