Tiny Treasures Preschool
"Train up a child in the way they should go; even when they are old they will not depart from it."
(Proverbs 22:6)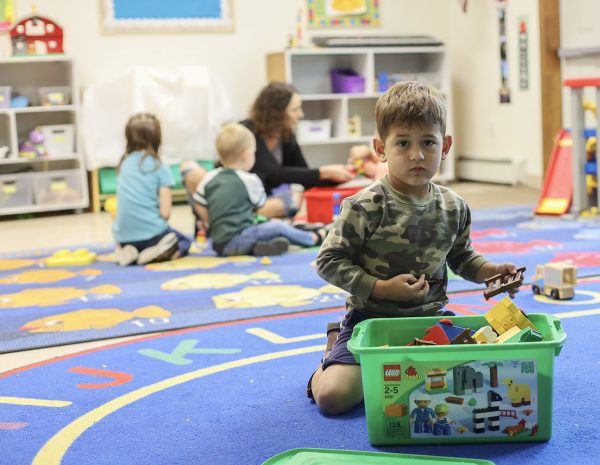 PRESCHOOL OVERVIEW
Tiny Treasures first opened over twenty years ago. The preschool operates year-round. The typical school day runs from 8:30-3:30 with potential allowances for parents' work schedule. We daily strive to love your unique child(ren) in a clean, safe, secure, and licensed facility.
PRESCHOOL CURRICULUM
We are daily driven by the individual needs and desires of each child. To help us with that focus we supplement our relationship with your child(ren) by using One in Christ, Handwriting without Tears, and a custom assessment derived from Creative Curriculum and the National Head Start Standards.
MONTHLY TUITION
Half Day Sessions = 3 hours/day.
Morning Session is 8:30-11:30am.
Afternoon Session is 12:30-3:30pm.

Full Day Sessions = 8:30am-3:30pm
THINGS TO KNOW
$50 Fee on Returned Checks.

If Tuition is not paid by the 10th of the Month, a $20.00 Late Fee will be assessed.

Preschool will provide a snack during the morning or afternoon sessions.

Parents are required to provide a lunch for their child(ren).

Parents will provide a backpack with a change of clothes.

Each additional child will receive a 10% discount.
| | First Child | Second Child |
| --- | --- | --- |
| Registration Fee | $60 | |
| Two Half Days | $140 | $126 |
| Three Half Days | $210 | $189 |
| Four Half Days | $280 | $252 |
| Five Half Days | $350 | $315 |
| Two Full Days | $280 | $252 |
| Three Full Days | $420 | $378 |
| Four Full Days | $560 | $504 |
| Five Full Days | $700 | $630 |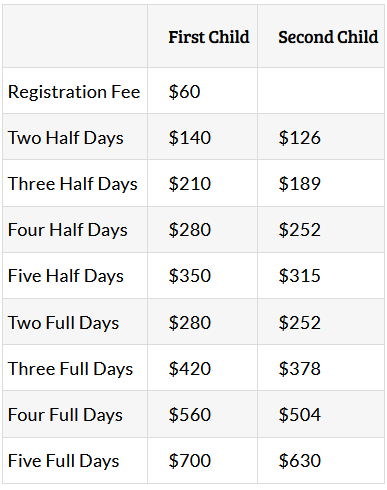 What's Happening at Tiny Treasures Preschool
Redeemer Lutheran Tiny Treasures Preschool is committed to providing a nurturing, stimulating, Christian environment where active learning flourishes and the physical, intellectual, emotional, spiritual and social development of children is promoted with the recognition that they truly are God's precious gifts. We want to provide support to parents by supplementing and enhancing a child's development.
Fall is both the end of the church year and the beginning of the school year. The children learn initially how God blesses them and our world through the Bible accounts of Creation, the Fall and then Noah. In October, we will learn how God blesses families through the Bible accounts of the Tower of Babel, God's Promises to Abraham, Jacob, Joseph and Moses. We will also talk about the significant church holiday's of Holy Cross, St. Michael and All Angels, All Saints Day and the Reformation.
The assessments for the beginning of the school year start with language development. We specifically work on listening, understanding, speaking, communicating and asking questions. In October we will move to literacy, which includes book awareness, print awareness, early writing and some early phonological awareness. Please take time to read simple books to your children in a variety of locations, especially outdoors.
Redeemer Lutheran also operates an elementary school that on Wednesdays offers hot lunch. We are going to offer those to the preschool children also, if you want, with a couple of stipulations. First, the cost is $3 per week and must be prepaid. Second, if your child is a picky eater, please do not rely on hot lunch, because it is usually homemade food that young children are not interested in trying and then we just waste it and your child paid for nothing (and they will be hungry). We will start offering hot lunch for preschoolers in October, after fall break.
Speaking of Fall Break, it is different this year. Our Fall Break is October 4-10, which starts BEFORE the fall break for Delta County schools. Please note the dates. Also, we ARE in school on Monday, September 25 in the preschool, but NOT the elementary school. Finally, Redeemer Lutheran School takes the whole week off for Thanksgiving (November 20-24), however, Tiny Treasures is OPEN on Monday and Tuesday (November 20-21) and closed Wednesday – Friday (November 22-24). If you have any questions, comments or observations, please feel free to speak with Mr. Holden or call 970-874-3052.
Don't Forget These Important Vacation and Preschool Closing Dates:
Last Day of Summer – August 18, 2023

Preschool Starts–August 28, 2023

Fall Break – October 4 – 10, 2023

Thanksgiving – November 22 – 24, 2023

Christmas Vacation – December 20, 2023 – January 3, 2024